Telemedicine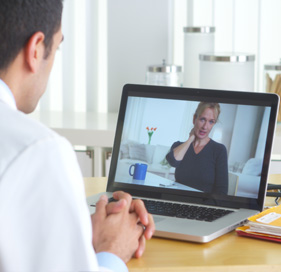 Behavioral Care Solutions is proud to introduce offer Telemental Health Services to our Facilities and Residents
As Medicare and Medicaid providers, our clinicians can provide psychiatric and psychosocial services to residents in a rural (as identified by CMS) or under-served, skilled nursing facility settings using approved Telemental Health Video Devices.
Behavioral Care Solutions realizes that in many areas throughout the Midwest, nursing homes face great challenges in accessing consistent and timely psychiatric and psychological care for their resident population. The time involved in traveling to see residents, the shortage of appropriately trained professionals in the area, and the resultant inability to provide the breadth of coverage required for continuity of care has created a serious problem for nursing homes in designated Mental Health Professional Shortage Areas.
We are now utilizing telehealth and videoconferencing technology to reach out to residents in nursing homes to supplement the care we may provide on-site or to manage care in a facility that may otherwise have been out of our service area. Recent studies have shown outcomes do not significantly differ between on-site services and those delivered through telehealth technology. In addition, resident and staff satisfaction with telemental health services has been quite good, especially when paired with period on-site clinician visit.
---
Behavioral Care Solutions Telemental Health Program benefits include:
Psychiatrists, nurse practitioners, physician assistants,and psychologists and Masters Level Social Workers are available and able to see evaluate and treat more residents on regular and appropriate intervals, each month as travel, weather, and related economic constraints are mitigated.
Resident waiting lists for initial visits are eliminated or shortened.
Wait times for follow-ups are greatly reduced or eliminated.
Emergency psychiatric assessments and acute crises can be more readily managed without excessive delay. Such management can help reduce the need for in-patient care, potential resident-to-resident or resident-to-staff altercations. or prolonged 1:1 on-site staffing.
Specialty consults can be provided with improved service and reliability.
Facility staff participation in case management of residents will improve coordination of care.
Facility staff in remote areas can participate in educational programs offered by Behavioral Care Solutions. Distance learning can reduce professional isolation and increase staff competence, thus contributing to higher quality of care and staff retention rates.
Residents experience more of a team treatment model due to enhanced availability of services.
Family participation in treatment can be encouraged and tends to increase.
Professional collaboration increases.
Residents have access to a much broader range of behavioral health experts, improving quality and choice of care. Telehealth services offer the facility an opportunity for expanded Medicare reimbursement. Specifically, the facility can receive direct reimbursement for participation in such remote services (commonly referred to as a "Facility Fee" for presenting the resident).
Videoconferencing equipment is provided at no-charge by Behavioral Care Solutions to your facility.
Behavioral Care Solutions will establish a convenient appointment scheduling process to ensure timely access to our Telemental Health Services.
---
Major Components of the Behavioral Care Solutions Telemental Health Program
There are 6 major components to the Behavioral Care Solutions Telemental Health Program:
1. Psychiatric Evaluations. A complete historical and diagnostic initial evaluation by a psychiatrist, nurse practitioner or physician assistant.
2. Medication Management/0BRA Oversight. The clinician evaluates the resident regarding medication effectiveness, symptom remediation, medical problems, and side effects, allowing them to determine whether resident medications need to be changed, stopped or titrated. In addition, all Behavioral Care Solutions clinicians are versed in OBRA guidelines and will ensure all documentation is consistent with those guidelines.
3. Specialty Consultations. Specialty services can be provided for second opinions, competency evaluations, behavioral management meeting participation, and neurobehavioral evaluation.
4. Emergency Evaluations. Acute care assessment and evaluation/certification for in-patient care using telehealth services would be available to greatly improve emergency response time.
5. Family Involvement in Resident Care. Family members can participate in telehealth videoconferencing or counseling sessions to support the resident and be involved in the resident's treatment.
6. Supportive Therapy. When necessary, the clinician can provide regular supportive psychotherapeutic intervention to enhance psychiatric care and improve outcomes.
Behavioral Care Solutions will supply the necessary video-conferencing equipment to your facility and train your staff on its operation and use. In addition, we will work with your billing department to orient them to billing for the Telehealth Originating Site Fee and to ensure your eligibility for Medicare and Medicaid telehealth reimbursement.
We look forward to discussing this exciting program with you. Contact us today to speak to a member of our team!