Our Approach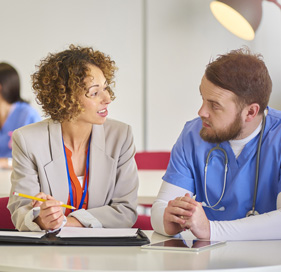 Committed to the Highest Level of Ethics and Professionalism
Behavioral Care Solutions is a consortium of independent and individually selected physicians, psychologists, nurse practitioners, physician assistants, and licensed masters social workers. We are united and established to represent the highest standards of mental health practice, ethics and professionalism in the delivery of comprehensive, multidisciplinary services to the elderly and particularly, to the segment of older adults residing in long-term care facilities.
---
An Emphasis on Collaborative Multidisciplinary Care
Our management team has built over 75 years of cumulative experience. From this experience, they established a business and clinical model based on medically necessary, evidence-based diagnostic and treatment services that emphasize effective coordination of care among its multidisciplinary members and a methodology that is designed to work in meeting the needs of the long-term care residential population. Each individual healthcare provider affiliated with Behavioral Care Solutions is properly licensed, credentialed and in good standing with his or her licensing board in the State where service is conducted. They have completed rigorous criminal background checks, TB testing, and maintain proper malpractice, business and workers' compensation insurances and regular continuing clinical education. We incorporate the standards and policies of the Centers for Medicare and Medicaid Services (CMS) into our policies, procedures, and methods for documentation of clinical services and regularly conducted Quality Assurance/Utilization Reviews.
The services provided by our affiliated clinicians are available in long term care, nursing home and assisted living settings. There is convenient, telemental health video access to services in rural and under-served communities, as well.