Staff Training & Organizational Services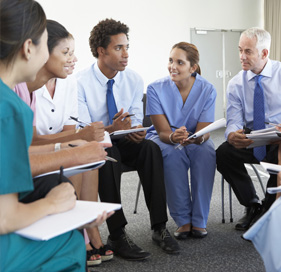 Behavioral Care Solutions provides comprehensive staff training and organizational services to facility staff as requested by management.
Routine in-service training on current research and trends in geriatric mental health issues are provided to facility staff who support the work of the clinicians assigned to your facility.
A wide range of topics are available and can include; but is not limited to:
Understanding the F-329 Medication Guidelines
Dealing with Difficult Behaviors
Understanding Psychiatric Medications
Conflict Resolution Strategies
Depression in the Elderly
Abuse and Neglect
All contracted facilities can receive scheduled in-service training for multiple shifts. Our goal is to assist management in meeting mission goals within a high-quality work environment. Behavioral Care Solutions staff members will assist as appropriate in state credentialing audits and annual reviews by governing bodies.
BCS staff will participate in planning of any corrective action requirements which may be imposed by government organizations, such as:
Confirming the presence of high quality Psychiatric Care and other Mental Health Services for residents under our care
Expanded behavior management programs including in person attendance and hands-on training, care plan updates, and staff in-services for difficult behaviors
Psychiatric hospitalization support
MDS documentation assistance