Our Care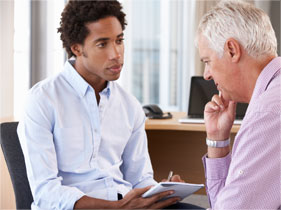 Behavioral Care Solutions offers a multidisciplinary approach to psychiatric and psychosocial care for older adults and seniors
Our team of psychiatrists assist with overall management of residents within the facilities. They are also available for consultation and crisis intervention by telephone and video conference.
In conjunction with a facility's primary care services, we offer psychiatric assessment and medication management services to assist with anxiety, depression, cognitive disruption and other adverse symptoms commonly experienced by geriatric residents.
Psychiatric Services
The BCS psychiatry staff in combination with our team of psychologists and Masters Level Social Workers coordinate a patient-centric team approach to psychiatric and psychosocial services involving psychiatric assessment and medical treatment, cognitive evaluation and therapy services. All our psychiatric staff are trained in the understanding of OBRA standards as they pertain to the expanded F-329 guidelines designed to promote non-pharmacological interventions and a clinically indicated medication regimen. In this regard, Behavioral Care Solutions offers our Psychotropic Medication Review Program to all contracted facilities in an effort to promote the highest degree of compliance with existing guidelines and the completion of required objective measures including the MMSE and AIMS testing. In addition, a member of our psychiatric team would be happy to participate in your facility's regularly scheduled Behavioral Management Meetings to better identify and meet the needs of the individual patients and residents.
---
Psychological Services
Our psychology staff is comprised of Geropsychologists, Neuropsychologists, and Clinical Psychologists. They provide on-site evaluation and diagnostic services for both emotional and neurocognitive-based issues. The Behavioral Care Solutions psychology service conducts routine screening for depression and anxiety with residents upon admission as requested by facility staff. They also offer functional and diagnostic assessment of cognitive skills in residents with a history of neurological disease or trauma. These services allow for appropriate medical planning, therapeutic intervention, and objective assessment of medication effectiveness.
---
Family Centered Services
Behavioral Care Solutions understands the vital role families play in the care and treatment of their loved ones. Accordingly, we are committed to working with families in both an educational and supportive context. We are available to plan educational presentations on relevant mental health issues to family members, as well as meet with family members, to provide interactive support that focuses on methods for promoting the well-being and quality of life of their loved one in the facility.
---
Psychotherapy Services
Older adults are faced with a variety of stressors related to the aging process. These stressors might involve reduced activity, changing family roles, mortality and increased reliance on others for daily living needs. Placement in nursing homes often creates additional stress in their lives. Behavioral Care Solutions strives to help create a new sense of community in the resident's new home. Working closely with facility staff, we promote involvement in group activities and provide counseling to assist with integration into the community. A variety of therapy services are provided including individual, family, and group psychotherapy. The goal of therapy is to promote adjustment and ensure the highest quality of life for the resident.
---
Behavior Management Services
The natural aging process as well as illness sometimes produces significant cognitive decline for seniors. This decline can lead to problematic behaviors which pose a threat to the residents themselves or to other members of the community. Working closely with facility staff, Behavioral Care Solutions develops individual behavior programs to monitor and address problems that may arise for residents. We also assist in developing positive reinforcement programs for increasing independence and self-care for residents. Included in this effort, our clinician will offer "mini in-services" and hands-on training to the CENA's and other staff at the facility for implementation of specific resident behavioral plans and follow-up to ensure effectiveness of the training and the plan.
These efforts can significantly:
Reduce risk of danger to the resident, staff, and others in the facility.
Support the highest quality of life to the resident.
Allow for reduction or elimination of unnecessary psychotropic medications.
Provide reduction in stress to residents, family and caregivers.
Encourage more efficient unit functionality to alleviate overall distress.